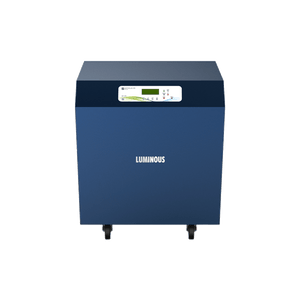 Luminous Inverter 15 kva 3 phase optimus 3p 15-20
Rs. 149,000

Rs. 149,000

Save Rs. 26,000
Tax included.
Shipping
calculated at checkout.
---
---
Free Home Delivery ( Delhi NCR )
Free Maintenance Service for 1 Year ( Delhi NCR )
Best Dealer & Shop Stablish Since 1993
Cheapest Price in ( Delhi NCR )
Luminous Inverter 15 kva 3 phase optimus 3p 15-20 Description
For high load capacity and output, Luminous has recently launched a 3 phase inverter by the name of Optimus 3P 15-20. This powerful Inverter has a 15 KVA load handling capacity which is ideal for running commercial spaces like offices , supermarkets , schools and petrol pumps etc.
Luminous Inverter 15 kva 3 phase optimus 3p 15-20 Specifications
Capacity: 15 KVA

Phase Type: 3 Phase

No. of Batteries Supported: 20 No.(240V)

Type of Battery Supported: SMF, FLAT, TUBULAR

Technology: Pure Sinewave

Dimensions(in cm): 

68 X 43.6 X 82

Weight: 134 kg

Warranty: 24 months
---
We Also Recommend
---