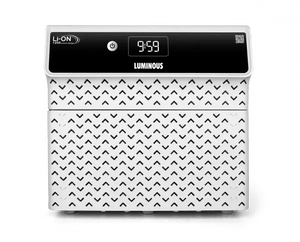 Luminous Lithium Ion Inverter Li-ON 1250 Battery EStore
Rs. 61,000

Rs. 61,000

Save Rs. 18,990
Tax included.
Shipping
calculated at checkout.
---
---
Free Home Delivery ( Delhi NCR )
Free Maintenance Service for 1 Year ( Delhi NCR )
Best Dealer & Shop Stablish Since 1993
Cheapest Price in ( Delhi NCR )
Luminous Lithium Ion Inverter Li-ON 1250 Description
Regarded as the cheapest and best-in-class inverter with a built-in Lithium-ion battery pack , Luminous company has again done wonders by introducing this revolutionary inverter into the market. With a compact and stylish design , accustomed to a built-in lithium-ion battery with 1280wh capacity, this inverter will soon rule the market. Please find the required inverter specifications and features below.
Luminous Lithium Ion Inverter Li-ON 1250 Specification
Pure Sine Wave Technology Inverter

Inverter with in-built Li-Ion Battery. So no need to buy an external battery.

The capacity of the inverter: 1100VA/ Rated Power: 880 W

The capacity of the battery - is 1280 (Watt-hour)

Li-Ion Battery offers a Longer battery life than the general lead-acid batteries , of up to 10 years , consistent backup time throughout its life , faster Battery charging speed and maintenance-free consumer experience

Completely safe inverter with No acid spills, toxic fumes, or protruding wires and can be placed inside the homes

Intelligent inverter with an in-built Battery Management system

LCD display which shows the performance numbers of the inverter

Free installation by the Luminous Service team

5 Years warranty on both Inverter and battery (For detailed terms and conditions of warranty please refer to the manual/warranty card supplied along with the inverter )"
---
We Also Recommend
---