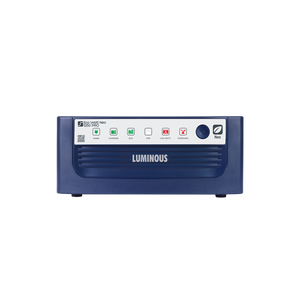 Luminous inverter eco watt neo 1250
Rs. 5,800

Rs. 5,800

Save Rs. 3,750
Tax included.
Shipping
calculated at checkout.
---
---
Free Home Delivery ( Delhi NCR )
Free Maintenance Service for 1 Year ( Delhi NCR )
Best Dealer & Shop Stablish Since 1993
Cheapest Price in ( Delhi NCR )
Luminous inverter eco watt neo 1250 Description
Luminous Power Technologies has been ruling the inverter battery segment for more than 10 years. With its latest advancements in products and most competitive and best prices , the company has kept its focus on keeping up with all the future technological trends and innovations. In order to survive and thrive in the market, the company has launched many new products like Eco Watt Noe 1250. When other competitors are busy copying the product range and concepts, luminous has created the cheapest inverters with more load-handling capacity than other counterparts.
Luminous inverter eco watt neo 1250  Specifications
Capacity: 1100 VA

Bulb Load: 924 W

Weight: 10.3 kg

Dimensions: 

27.5 X 30.2 X 13.0

Warranty: 24 months

Technology: Intelligent Square wave

Battery Type Supported: SMF, TUBULAR AND FLAT PLATE(80ah - 250ah)
---
We Also Recommend
---