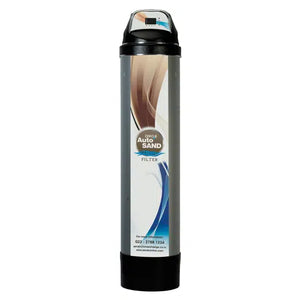 ZeroB Auto Sand filter 3AF 3000LPH Water Softener
Rs. 46,900

Rs. 46,900

Save Rs. 8,590
Tax included.
Shipping
calculated at checkout.
---
---
Free Home Delivery ( Delhi NCR )
Free Maintenance Service for 1 Year ( Delhi NCR )
Best Dealer & Shop Stablish Since 1993
Cheapest Price in ( Delhi NCR )
ZeroB Auto Sand filter 3AF 3000LPH Water Softener Description
Zero B Auto Sand Filter is used to remove turbidity and suspended matter from the raw water like dust, salts, and undesirable minerals. The Automatic sand filter is suitable for pre-treatment for large RO systems. 
ZeroB Auto Sand filter 3AF 3000LPH Water Softener Specifications
Brand Make : ZeroB

Company : Ion Exchange India LTD

Model : Auto Sand filter 3AF

Tank Size : 

13″ x 54″, 2.5″ top opening

Flow Rate :  3.0 m3/h

Suspended salt reduction : Up to 80%

Working pressure(Kg/cm) : 1.8 - 3.5

Turbidity reduction : Better than 50%
---
We Also Recommend
---