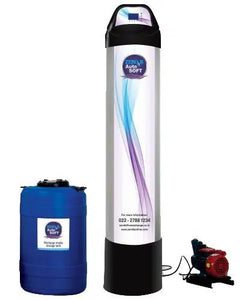 ZeroB Water Softener AS3 3000 LPH
Rs. 81,000

Rs. 81,000

Save Rs. 8,990
Tax included.
Shipping
calculated at checkout.
---
---
Free Home Delivery ( Delhi NCR )
Free Maintenance Service for 1 Year ( Delhi NCR )
Best Dealer & Shop Stablish Since 1993
Cheapest Price in ( Delhi NCR )
ZeroB Water Softener AS3 3000 LPH Description
ZeroB has created AS series of automatic water softener for customers who are facing the problem of hard water. The AS3 is an automatic water softener that converts hard water into soft water like morning dew. It needs salt for the recharge only once, that is done automatically. 
ZeroB Water Softener AS3 3000 LPH Specifications
Brand Make : ZeroB

Company: Ion Exchange India LTD

Model: AS3 Automatic Water softener 3000 LPH

Water flow: 3000 liter/hour

Dimensions of Water Softener : 4 x 5 ft.

 Maximum Input hardness : 800 ppm

Treated water hardness : <50 ppm

Salt capacity : 200 kg

Regeneration pump : 

Self-priming pump (with inbuilt NRV)

Purple resin quantity : 45 liters

Salt required per recharge : 7 kg

The area occupied : 4x5 ft.
---
We Also Recommend
---