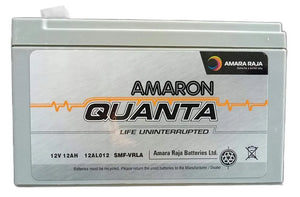 Amaron Quanta Smf Battery 12 ah Small VRLA
Rs. 1,850

Rs. 1,850

Save Rs. 1,390
Tax included.
Shipping
calculated at checkout.
---
---
Free Home Delivery ( Delhi NCR )
Free Maintenance Service for 1 Year ( Delhi NCR )
Best Dealer & Shop Stablish Since 1993
Cheapest Price in ( Delhi NCR )
The Amaron Quanta Small VRLA series of Sealed-Maintenance-Free (SMF) batteries have been designed to be general All-purpose batteries for providing the most effective backup supply for an uninterrupted power supply and reliable standby shelf life. The range starts from 7 ah and goes till 18 ah battery. These batteries are eco-friendly as they don't produce any harmful fumes that pollute the environment. 
Amaron Quanta Smf Battery 12 ah Description
Functionality is reliable

Advanced AGM Valve Regulated technology

.

12 Ah Battery is suitable for Fast charging.

It is a lead-acid battery type in a sealed leak-proof container.
Amaron Quanta Smf Battery 12 ah Specification
Warranty - 12 month
Weight - 3.6 kg
Battery Voltage  - 12 volt
Dimension in cm - 10 x 15.1 x 9.8
---
We Also Recommend
---